EyeBeam Dome NVIS – Panel
The EyeBeam Dome™ was developed to meet the requirements of an interior dome light for all aircraft, that would complement the amazing Aveo EyeBeam™ products, and their unique capacitive touch-controls. Long gone are the days of mechanical switches which can corrode and spark, etc.
Features
Available in Visible White or NVIS Compatible White only
Aveo proprietary and industry first capacitive touch controls for On/Off, Adjustable "slider" Intensity Level, and Color Selection with bare hand or gloves. No mechanical switches to get dirty or fouled
Hermetically sealed product that is INERT to vibration, shock and water
80 VDC over-voltage protection, 9 to 32 VDC input voltage
Aveo exclusive Linear COB light source technology, which eliminates the bright white "spots" or "dots" of our competitors lights, which produces UNIFORM, NON-GLARE DIFFUSED light. Also can have multiple colors in multiple sections, an Aveo Exclusive.
Notice the lack of spots or dots as other LED lights are known for. This eliminates glare and provides a more uniform diffused light output.
Aveo's industry leading multi-layer, metal core PCB technology provides the PROVEN lowest EMI in the industry
Aveo's exclusive NanoCloak™ nano technology membrane coating provides self-cleaning, anti-microbial properties to the light fixture
Operational temperature range from Minus 50°C to Plus 85°C
Operating Voltage to MIL-STD-1275
IP68 Waterproof Construction
Black Anodized Aluminum Matte Finish
Qualified to MIL-STD-810G 514.6 Category 20, Test I and III Vibration Test
Qualified to MIL-STD-461F, Sections CE 102, RE 102, RS 103
ISO Plots will be supplied only after customer provides mounting info with Focal length and Target Illumination area information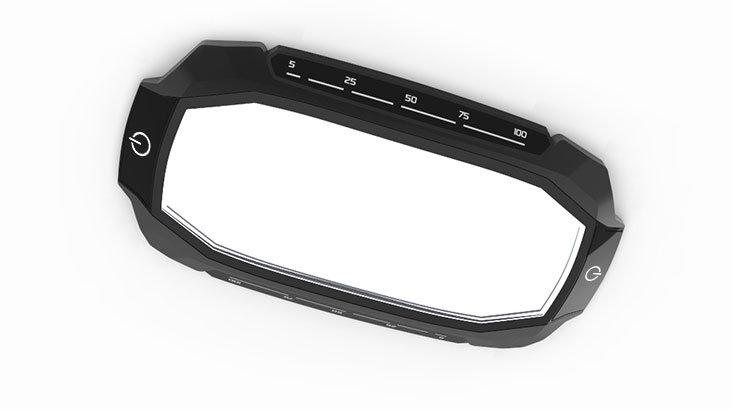 This light features a wide DIFFUSE white color that eliminates glare.
Capacitive touch control works with your finger or even flight gloves. Can be controlled by a separate wall mounted remote.
Waterproof / Shockproof / Dust-proof
All Aveo lights are waterproof, dust proof, and inert to most environmental conditions as they are all tested to categories of DO-160 exceeding the applicable requirements by far in external laboratories experienced in compliance demonstration of EASA ETSO and FAA TSO appliances.


3 year warranty on materials and workmanship.